A birthday for Benenden Hospital!
14th March 2017
Did you know Benenden Hospital is older than the NHS?
This month, the Kent-based hospital celebrated its 110th birthday since its foundation in 1907.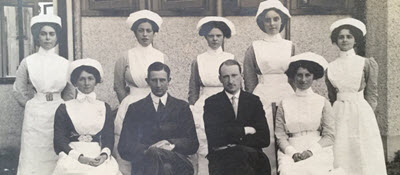 Benenden itself - the Society and provider of personal healthcare - was founded in 1905 as a mutual first providing tuberculosis treatment for post office workers.
The hospital, based near Cranbrook in Kent, was then opened in 1907 - during the reign of King Edward VII - as a sanatorium for those early Benenden members. What was then known as Benenden Sanatorium treated 988 people within its first five years.
Since then, Benenden Hospital has diversified and expanded in its valued position as a flagship hospital among the organisation's network of partner hospitals.
It is currently undergoing a multi-million pound redevelopment, due for completion later this year. In the last five years (2012-2106) there were 250,000 patient attendances: 210,000 as outpatients and 40,000 admissions.
Although originally serving postal workers suffering from TB, when cases began to decline treatments were expanded to include those for chest complaints and cancer, and shortly afterwards an operating theatre, surgical wards and an x-ray department were introduced.
Today the hospital is a still a place for Benenden members to access services available as part of their membership. It also offers a range of services from weight-loss or cataract surgery to hip and knee replacements, treatment for conditions including varicose veins or incontinence, and much more.
Benenden Hospital is a subsidiary and is an independent hospital with charitable status. The hospital caters for members of Benenden, private patients and NHS patients through the e-referral service.
Find out more about Benenden's heritage.
Follow us