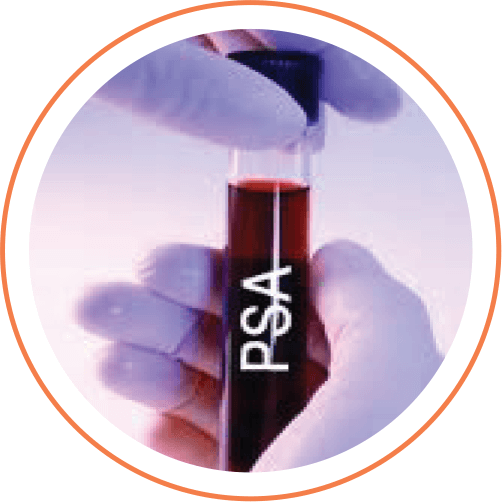 Active Surveillance
Active surveillance involves just that: active surveillance. Offered primarily to men who might not need radical, invasive treatment, this method uses regular PSA tests and biopsies to monitor cancer for signs of progression.

Radiotherapy
While brachytherapy is still used as an early stage cancer treatment, external radiotherapy is much more common. This method treats cancer cells by directing high energy x-rays into the tumour. These rays destroy the cancer cells, thereby halting or slowing tumour growth, with minimal damage to normal cells.

Hormone therapy
Prostate cancer cells are so aggressive because they have everything they need to multiply right in a man's body. They feed on testosterone, a readily available resource that can be controlled using hormone therapy. The drugs are delivered using injections, implants or anti-androgens, and by preventing testosterone from acting on the prostate cells, can keep cancer under control for a number of years.

Steroids
Steroids are a less common alternative to hormone therapy, and are used if the latter, sadly, stops working. Steroids can shrink cancerous prostate tumours and stop them from growing, again keeping the cancer under control.

Radical prostatectomy
While radical prostatectomy has its roots firmly in the past, modern advancements mean that surgeons have perfected the procedure for safe use in cases of localised, isolated prostate cancer. As before, it involves the removal of the prostate gland through either perineal or retropubic prostatectomy, alongside a more modern, less invasive method – keyhole surgery. In many cases where cancer hasn't spread beyond the prostate gland, radical prostatectomy has cured it.

Chemotherapy
Chemotherapy is one of the most widely used treatments for prostate cancer, especially in advanced cases. The drugs destroy cancer cells by interfering with the way they multiply, keeping the disease and its symptoms under control. The most common chemotherapy drug is docetaxel (Taxotere), although cabazitaxel (Jevtana), mitoxantrone (Novantrone) and several others are also used.