Food for thought: shop bought soups
Ideal for warming up on a cold winter's day, but is this comfort food always a healthy option?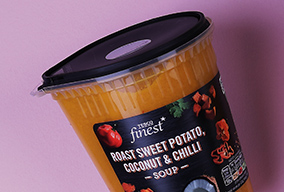 Tesco Finest Sweet Potato, Coconut and Chilli Soup
A 100g serving has 18% of your recommended daily saturated fat intake, so it's best as an occasional treat.
Calories - 66kcal
Sugar - 2.7g
Salt - 0.3g
Protein - 1.1g
Fat - 4.9g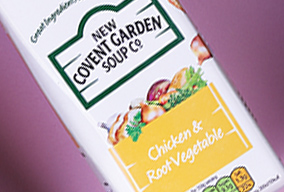 New Covent Garden Soup Co Chicken and Root Vegetable
A fresh source of vegetables and containing 50 calories per 100g, this chicken soup is relatively good for the soul.
Calories - 50kcal
Sugar - 2.6g
Salt - 0.38g
Protein - 2.2g
Fat - 2.4g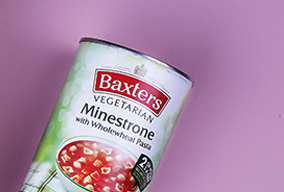 Baxters Vegetarian Minestrone with Wholemeal Pasta
Each can gives two of your five a day and the wholemeal pasta provides plenty of fibre. But salt content is high.
Calories - 40kcal
Sugar - 2.6g
Salt - 0.6g
Protein - 1.3g
Fat - 0.2g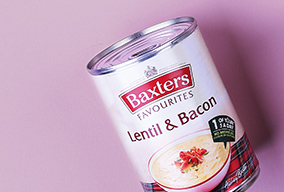 Baxters Lentil and Bacon
Gluten free, low in fat and containing one of your five a day, this soup is a great source of protein – just don't be tempted to add more salt.
Calories - 52kcal
Sugar - 1.1g
Salt - 0.6g
Protein - 3.4g
Fat - 0.7g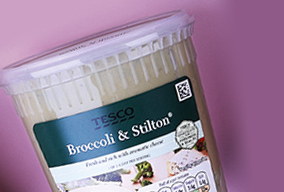 Tesco Broccoli and Stilton
Although low in calories, a 100g serving has 10% and 7.3% of your advised daily saturated fat and salt intake so is best in moderation.
Calories - 52kcal
Sugar - 1.2g
Salt - 0.5g
Protein - 2.4g
Fat - 3.6g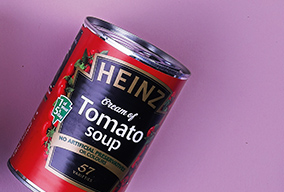 Heinz Cream of Tomato Soup
This beloved comfort food may be low in fat, calories and salt but, with 4.8g per 100g, this soup has the highest sugar levels in the line-up.
Calories - 51kcal
Sugar - 4.8g
Salt - 0.5g
Protein - 0.8g
Fat - 2.1g
Figures stated above are sourced from tesco.com. Statistics relate to the following servings: 100g Tesco Finest Sweet Potato, Coconut and Chilli Soup, 100g New Covent Garden Soup Co Chicken & Root Vegetable, 100g Baxters Vegetarian Minestrone with Wholemeal Pasta, 100g Baxters Lentil & Bacon, 100g Tesco Broccoli and Stilton, and 100g Heinz Tomato Soup