Dr. Google Will See You Now
Have you ever caught yourself symptom-searching, only to find you might be coming down with something more serious than you'd ever imagined? During this current pandemic it can be tempting to Google your symptoms instead of waiting for an appointment with your GP. 
Doctors are reporting huge rises in the "worried well" – healthy patients who, fuelled by Google and Wikipedia searches, are diagnosing themselves with everything from food allergies to brain tumours.
Also known as cyberchondria, it's a habit many of us are guilty of, where even the faintest of symptoms has us frantically tapping away at the keyboard for answers.
Fuelled by the rising numbers of patients struggling to get through to their family doctor, as well as gruelling GP wait times, making appointments tends to fall to the bottom of the priority pile and instead we turn to Dr. Google to make our own self-diagnosis.
In fact, Britons consulted Dr. Google more than 100 million times last year, and, using that Google search data we've identified the UK's biggest health concerns.
Mental health - specifically anxiety – was the main worry, making up 10% of the total searches, with recent research suggesting from the Royal College of GPs that there has been a sharp increase in young people suffering from mental illness. Diabetes placed second, perhaps reflecting the obesity epidemic gripping Britain.
Sexual health also proved to be a problematic topic with more than 10 million searches around Chlamydia and Gonorrhoea in 12 months.
You can see the full results below…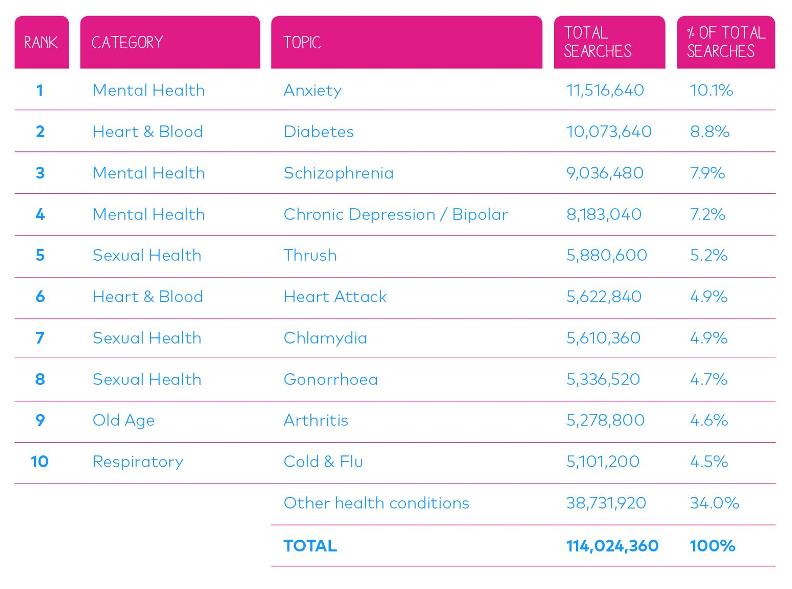 Although Googling symptoms may feel like we're relieving pressure on the NHS, so as not to bother GPs and health professionals with seemingly pointless problems, there are so many risks associated with self-diagnosis. Dr. Google could throw up any multitude of results and there's no knowing if you're getting the correct information.
"Google is not medically trained"
"When a patient comes in for an appointment I don't just listen to what they're saying, I appraise their overall health, how they look and how they walked in to the room, as well as carrying out clinical tests," explains NHS and Benenden Hospital GP Dr Karthika Shanmuganathan. "But with Google, it completely depends what you typed in for what diagnosis you'll come up with. And Google is not medically trained."
Despite the search engine's lack of medical training, it doesn't stop patients interrupting Dr Shanmuganathan's diagnoses during her GP practice. "At least twice a day in my NHS practice I will have patients telling me I must be wrong because Google told them otherwise," she says. Other than the extra time this self-diagnosis uses up, it can also lead to elevated levels of anxiety.
"If you have a headache, and you see the doctor who diagnoses a tension headache, you can deal with it and move on. But if you type in headache and come up with brain tumour, that's clearly going to lead to a heightened level of anxiety," says Dr Shanmuganathan, who wasn't surprised that anxiety was the most searched-for term. At least half of her daily appointments are related to mental health.
Related articles
It can be hard to know where to turn for different medical issues. Learn where to find support...
Cyberchondria
However, this internet-fuelled health anxiety, 'cyberchondria', isn't just bad for patients. It could be costing the NHS as much as £56m a year in unnecessary GP appointments and further tests just to disprove the wide ranges of conditions that patients present to their doctors from conducting internet research into their own symptoms. 
At the other end of the spectrum, if people are misdiagnosing conditions and self-treating – rather than going to see a pharmacist or a GP – they could be causing themselves long-term harm and spreading infections to others. This is particularly relevant to sexual health, which people might feel embarrassed to see their doctor about – but a correct diagnosis is essential.
For any undiagnosed medical complaint, Dr Shanmuganathan would always advise seeing a pharmacist or GP rather than searching online. However, she is far from internetphobic and recognises that there are some very useful websites with clear, simple information.
"I often advise patients to look at NHS.uk or patient.co.uk for lifestyle changes or ways to manage a condition," she says. "But never for a diagnosis."
Related articles
Here are 10 symptoms that might pass you by, but sometimes deserve your attention.
Waiting times
Figures show that around a quarter of patients now wait at least one week to see a GP. "When there's a long wait for doctors' appointments it's easy to get impatient and the ability to self-diagnose via the internet can for some be too tempting," says Helen Smith, chief commercial officer at Benenden Health.
Benenden Health members do have another option though, with the GP 24/7 and Mental Health support lines that are automatically included as part of their membership.
"We're continually experiencing increased access to these helplines," says Helen. "It gives our members 24/7 access to medical advice, helping to reduce the need for self-diagnosis."