Dr. Google Will See You Now
Have you ever caught yourself symptom-searching, only to find you might be coming down with something more serious than you'd ever imagined?
Doctors are reporting huge rises in the "worried well" – healthy patients who, fuelled by Google and Wikipedia searches, are diagnosing themselves with everything from food allergies to brain tumours.
Related articles
Discover what a Benenden Hospital and NHS GP has to say about the rise of self-diagnosis...
Also known as cyberchondria, it's a habit many of us are guilty of, where even the faintest of symptoms has us frantically tapping away at the keyboard for answers.
Fuelled by the rising numbers of patients struggling to get through to their family doctor, as well as gruelling GP wait times, making appointments tends to fall to the bottom of the priority pile and instead we turn to Dr. Google to make our own self-diagnosis.
In fact, Britons consulted Dr. Google more than 100 million times last year and using that Google search data we've identified the UK's biggest health concerns.
Mental health - specifically anxiety – was the main worry, making up 10% of the total searches. While diabetes placed second, perhaps reflecting the obesity epidemic gripping Britain.
Sexual health also proved to be a problematic topic with more than 10 million searches around Chlamydia and Gonorrhoea in 12 months.
You can see the full results below…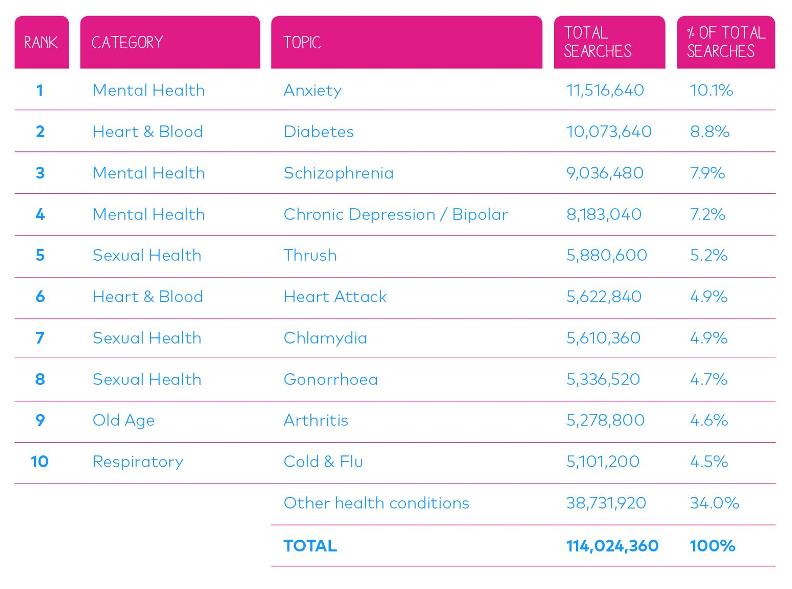 Although Googling symptoms may feel like we're relieving pressure on the NHS, so not to bother GP's and health professionals with pointless problems, there are so many risks associated with self-diagnosis. Dr. Google could throw up any multitude of results and there's no knowing if you're getting the correct information.
About Benenden Health
Looking after your health and wellbeing, Benenden Health is designed to be the affordable alternative to private health insurance as well as complementing NHS services for just £10.25 per person, per month.
As soon as you join, you have 24/7 access to GP and Mental Health helplines. Then, once you've been a member for six months, you can request our help if your NHS appointment is over three weeks for Medical Diagnostics or over five weeks for Medical Treatment and Surgery. Benenden Health isn't insurance, our services are offered on a discretionary basis. Limits and exclusions apply.
Find out more about Benenden Health and information on how to join the affordable alternative to health insurance.